Survey says (click on link):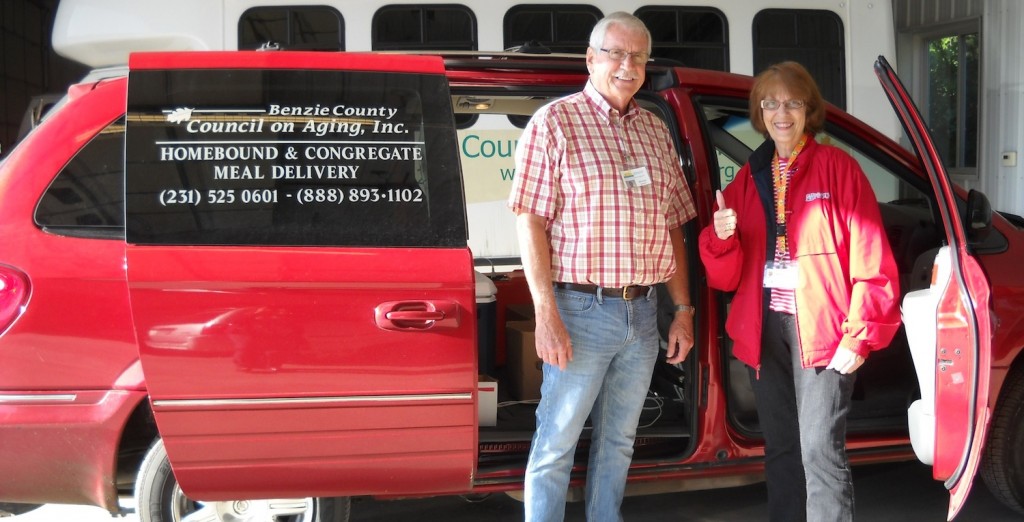 The Nutrition Program has two components: Home Delivered Meals and Congregate Meals. BCCOA operates both programs in Benzie County and both programs provide nutritionally balanced meals to individuals 60 and older. The costs for the meals are a suggested $3.00 donation.
Our meals meet the daily recommended dietary intake allowances established by the Food and Nutrition Board of the Institute of Medicine of the National Academy of Sciences. Our monthly menus are reviewed by a Registered Dietician with Area Agency on Aging.
The Home Delivered Meals program is for seniors 60 and older and who are unable to prepare their own meals. This might be because of a recent surgery or a chronic illness. Our meals are delivered Monday through Friday by volunteers on four separate routes throughout Benzie County. Depending on each client's needs, the meals consist of a hot meal for lunch, cold meal for re-heating at the client's convenience, and frozen meals for weekends and holidays. Breakfast bags are also available at the client's requests and/or during the assessment process. Each client is assessed at the time of a referral and then every six months thereafter.
Questions?
Please visit our Home Delivered Meals Program Frequently Asked Questions.
Please call 231-525-0601 for more information or to sign up for the Home Delivered Meals Program or complete a Referral Form and mail to BSR.
"I was very pleased with the meals.  Good variety and quality of food.  They also let me borrow a cane after hip replacement.  I also have light housekeeping service for 2 hours every other week.  I feel very fortunate to live in Benzie County where Seniors are well taken care of."  B.F.
Thank you so much for furnishing the food that you provide to my mother. She enjoys them very much and is eating A LOT better. She even tells me how much she enjoys eating her vegetables now. You all are angels and I thank God for you all.
Thanks, The extra gifts was a nice surprise!! The quilt, footies, puzzle books and hat. Thanks for being so giving.
When the snow on my driveway was too deep to drive a car up, the volunteer would walk up and deliver the meal to my door. Those volunteers are some of earth's angels.
"I really appreciated the good meals and concern and friendliness of all involved.  Thank you from the bottom of my heart"