Why volunteer for Benzie Senior Resources? (BSR)
"I'd really like to help but I am just too busy. I hate to commit—what if I can't follow through?"
Over 130 de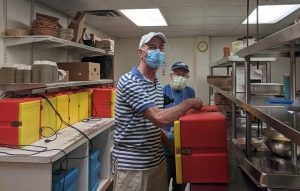 dicated individuals donate their time to teach classes, facilitate programs, deliver meals, staff our front desk, decorate, entertain and do countless other tasks.
The following is a list of volunteer opportunities we offer here at BSR. Your commitment could be whatever you have to give–once a week or even once a month!
Board of Directors – Serving on our Board requires dedicated individuals who are truly committed to the mission of BSR
Home Delivered Meals Drivers – Deliver meals to our homebound clients.
Meal Runners – Meal "runners" are the co-pilots with the home delivered meals drivers. Meal runners are the ones to deliver the meals in person and meet and socialize with the seniors. They also help navigate the driver by reading the directions to the stops along the home delivered meal routes.
Receptionist – Answer phones, greet the public, lunch-time desk coverage.
Office – Type lists, organize files, prepare packets/mailings, etc.
Programs – Assist with setting up for large group activities.
Party Planner – Host and plan monthly celebrations and other special events/ decorate for holidays and special occasions.
Travel Committee – This group is in its infancy stage and is in need of enthusiastic travelers to help get it off the ground!
Advisory Committee – Help guide the activities and happenings.
Fund Development Committee – Wanted! Folks who are versed in fundraising.
This sounds great, where do I sign up? It's simple! Just fill out the online form or click the link and print the application then bring it in to either our Administration Office or The Gathering Place Senior Center.
If you don't have a way to print it that's okay—we'll happily give you one when you stop by. We'll need to take a copy of your driver's license. All of our volunteers have to pass our background check for the safety of our clients.
"What a great crew! We are very honored to be part of an organization that does such an outstanding job of serving the needs in our county." ~ From Bud and Madelyn