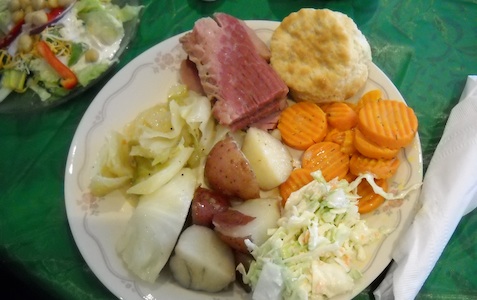 The Nutrition Program has two components: Home Delivered Meals and Congregate Meals (The Gathering Place Senior Center). BSR operates both programs in Benzie County where nutritionally balanced meals are served to individuals 60 and older. The cost for a meal is a suggested $4.00 donation.
Our meals meet the daily recommended dietary intake allowances established by the Food and Nutrition Board of the Institute of Medicine of the National Academy of Sciences. Our monthly menus are reviewed by a Registered Dietician with Area Agency on Aging.
Congregate Meals Program
Are you looking for a healthy meal for a great value?
Do you find yourself eating alone too often?
Do you find that it is hard cooking for one person?
The Benzie Senior Resources Congregate Meals Program operates out of The Gathering Place Senior Center in Honor Monday – Friday and also at the Community Building in Thompsonville on the first Friday of each month. Lunch is provided from 11:30 a.m. to 1:30 p.m. These sites promote better health through improved nutrition, social and educational activities.